BN-235 automatic antifreeze freezing point tester
---
whose products are widely used in petrochemical industry, national defense science and technology, quality inspection and customs, scientific research institutions, third-party testing and other industries.
Automatic distillation _ instrument _ automatic distillation, trace saturated vapor pressure
BN-235 automatic antifreeze freezing point tester
---
BN-235 automatic antifreeze freezing point tester
I. Overview
1. This instrument is developed according to the SH/T 0090 standard and has the function of automatically detecting and judging the freezing point of antifreeze.
Second, structural characteristics
1. This instrument is a desktop structure as shown in the figure.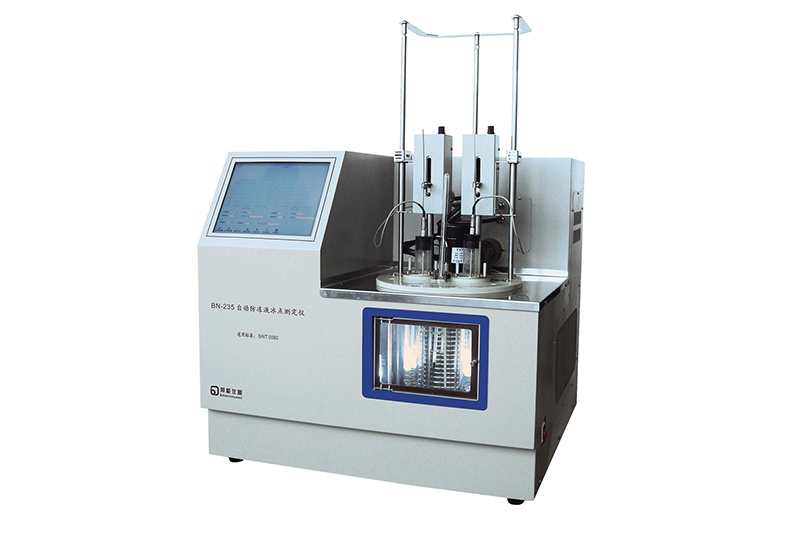 2 , using 10.4 inch large screen LCD screen, touch screen control.
3 , friendly interface, all Chinese display.
4. The instrument automatically collects the sample temperature, and the real-time curve shows the sample temperature, making the temperature change of the whole sample very intuitive.
5. The instrument automatically detects and judges the antifreeze freezing point and automatically saves the result.
6. Automatic alarm function with misoperation and fault.
Third, technical parameters
Working voltage: AC220V ± 10% , 50Hz
Ambient temperature: 5~35 °C, ambient humidity ≤ 85%
Working environment: no vibration, no dust, no corrosive gas, no strong magnetic field interference, no strong light
Fourth, the configuration
| | | |
| --- | --- | --- |
| Serial number | Name | Quantity |
| 1 | Host | 1 set |
| 2 | test tube | 2 Ge |
| 3 | Fuse 15A | 1 Ge |
| 4 | Mouse and keyboard | 1 set |
| 5 | Instruction manual, certificate of conformity | Each 1 part |
| | | |
online reference services