BN-025 engine antifreeze corrosion tester
---
whose products are widely used in petrochemical industry, national defense science and technology, quality inspection and customs, scientific research institutions, third-party testing and other industries.
Automatic distillation _ instrument _ automatic distillation, trace saturated vapor pressure
BN-025 engine antifreeze corrosion tester
---
BN-025 engine antifreeze corrosion tester
I. Overview
1. This instrument is developed according to the SH/T 0085 standard.
2. Process the six typical metals used in the engine cooling system into test pieces, weigh them and connect them into test strips, then completely immerse them in 750mL , air flow 100mL ± 10mL/min samples, high boiling point coolant and The rust inhibitor was tested at 88 °C ± 2 °C, and the low boiling point coolant was tested at 71 °C ± 2 °C for 336 h ± 2 h . After the end of the test, the test piece was taken out, and after being cleaned, it was weighed again, and the corrosion was evaluated by the mass change value before and after the test piece after the test.
Second, structural characteristics
1. This instrument is a desktop structure as shown in the figure.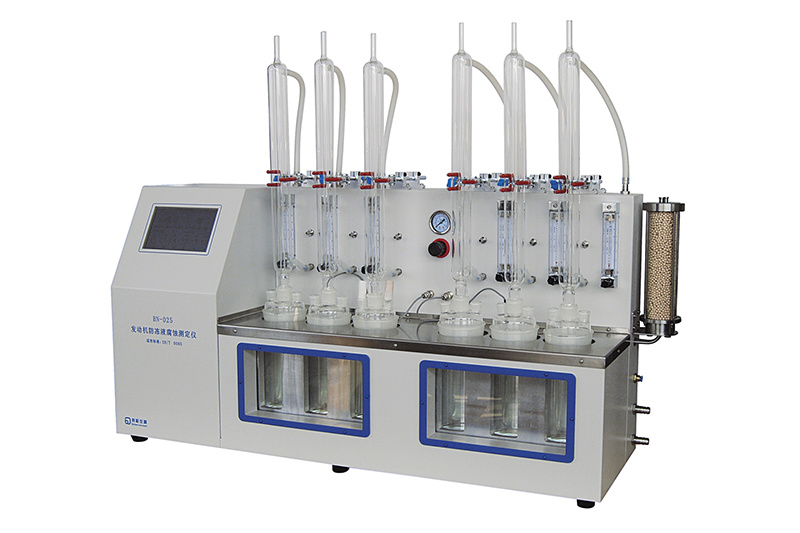 2 , using 7 -inch LCD screen, touch screen control.
3 , friendly interface, full Chinese display, real-time display of the working state of the instrument. Such as current temperature, running time, water valve status and other information.
4. The instrument has two independent metal baths, which can control different temperature points separately. The temperature points can be set arbitrarily, with PID self-tuning function.
5 , with temperature correction.
Third, technical parameters
Temperature control range: room temperature ~ 120 °C.
Control accuracy: ± 2 °C
Number of test holes: 6 holes
Working voltage: AC220V ± 10% , 50Hz
Power: 2800W
Fourth, the configuration
| | | |
| --- | --- | --- |
| Serial number | Name | Quantity |
| 1 | Host | 1 set |
| 2 | Fuse Φ 6 × 30 15A | 1 Ge |
| 3 | Thermal bath cover | 6 Ge |
| 4 | Silicone tube | 5 meters |
| 5 | Reinforced tube | 1 meter |
| 6 | Beaker 1000ml | 6 Ge |
| 7 | Gas diffusion tube | 12 Zhi |
| 8 | Condenser 400*40 | 6 Zhi |
| 9 | sensor | 2 Zhi |
| 10 | Thermometer 30 ° C ~ 100 ° C graduation value 1 ° C | 6 Zhi |
| 11 | Thermometer, diffuser rubber stopper | 6 Ge |
| 12 | Metal test piece (with test clip) | 12 sets |
| 13 | Low temperature circulation bath: room temperature ~ -30 °C | 1 set |
| 14 | air filter | 1 set |
| 15 | Air compressor | 1 set |
| 16 | Instruction manual, certificate of conformity | Each 1 part |
BN-235 automatic antifreeze freezing point tester
online reference services